Maybe this is a sign that I'm starting fresh in my life, that there are new things on the horizon. new ideas, new things to see, amazing inspiration!
This was what I told myself last night when I came home to my computer being completely
ERASED
!
Yes, my lovely little Sony laptop I suppose decided that it needed to lose some extra baggage I had put on her (yes my laptop is a girl) and she erased herself!
Itunes GONE
Photos GONE
My Inspiration folder (my life) GONE!!
Even my wallpaper had erased! My lovely little computer looked like I had never even touched it. So now I'm trying to get over this dramatic sorrow in my life. But the words, backup, keep coming to me. I now understand Carrie in that Sex & The City episode "Sad Mac."
On a positive note, at least the thing still turns on. But I'm still sulking.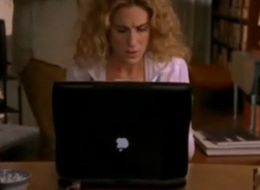 Title: Bye Bye Baby by Bay City Rollers